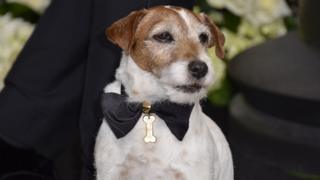 AFP/getty images
Tributes have been flooding in to Uggie, the dog who shot to fame in the 2011 Oscar-winning film, The Artist.
The Jack Russell has died at 13 years old.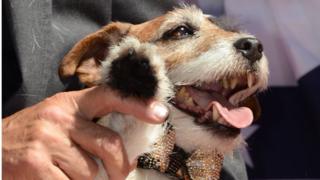 AFP/Getty images
His owner Omar Von Muller wrote on social media: "We regret to inform to all our friends, family and Uggie's fans that our beloved boy has passed away.''
''He is now in a better place not feeling pain."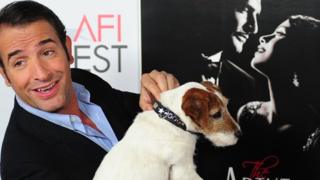 AFP/Getty images
Uggie's greatest films
Uggie also starred in Water for Elephants with Robert Pattinson in 2011.
The talented terrier "retired'' in 2012 but did make many TV appearances.
Uggie was also a star in the 2013 TV movie Holiday Road Trip, in which he played a dog called Scoots.
He won the Palm Dog award for best canine actor at the 2011 Cannes Film Festival, and he was the first dog to leave his paw prints in cement outside Grauman's Chinese Theatre in Hollywood.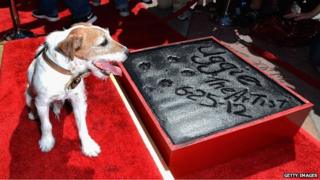 Getty Images
The Palm Dog organisers called him "a special little Jack Russell who gave pleasure to millions".
Uggie also has an autobiography, which was ghost-written by Wendy Holden.
So lets look at some other famous animals on our screens....
Harry Potter's snowy owl Hedwig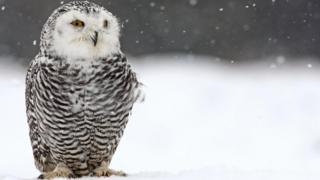 Hawk Conservancy Trust
Hedwig was bought in Eeylops Owl Emporium.
Rubeus Hagrid gave her to Harry on his eleventh birthday.
The owls are used by wizards to deliver mail, but Hedwig was a good friend to Harry as he learnt his tricks.
She died in the Battle of the Seven Potters in 1997.
Richard Parker the tiger in Life of Pi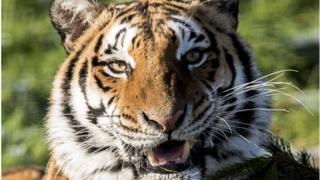 PA
The film tells the amazing story of Pi Patel who gets lost at sea with some of the animals from his father's zoo after their ocean liner sinks.
They survive in a lifeboat, but life at sea is a challenge.
Pi forms a powerful bond with the Bengal tiger who is called Richard Parker.
They give each other the motivation to survive.
Joey in War Horse
In the book by Michael Morpurgo, Albert Narracott gets a young farm horse called Joey.
He trains it and they become friends but he's sold to the army.
In 1914 he's taken abroad to help soldiers fight the enemy.
He pulls artillery, saves soldiers' lives and removes heavy obstacles.
After a long search Albert finds him.
Albert and his friends collect enough money for him to buy him back from the army and take him home safely.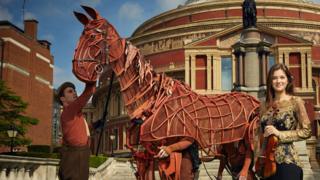 The film was then made into a successful theatre production.
Joey was played by this amazing life-size horse puppet.
It was operated by two men who moved his legs and head from inside.
101 Dalmations
You see black and white spots everywhere in this classic film.
The original was a Disney animation but it was updated using real dogs many years later.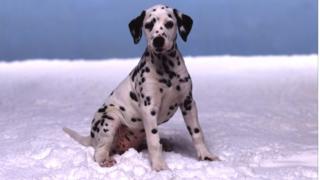 The dogs were all stolen by Cruella De Vil who wanted to make herself a fashionable coat.
But lots of animals including geese, cows and horses all worked together to track down the missing puppies.
The operation was led by a shaggy dog named The Colonel and a cat named Sergeant Tibbs.
March of the Penguins
The French nature documentary film followed the yearly journey of thousands of emperor penguins across Antarctica.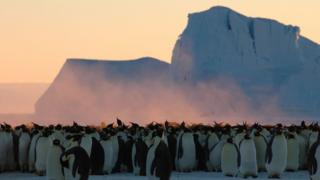 BBC/Fred Oliver
In the autumn, all the penguins who are five years old or older leave the ocean, to walk inland to their ancient breeding grounds.
For the chick to survive, both parents must make several treacherous journeys between the sea and the breeding grounds over the following months.