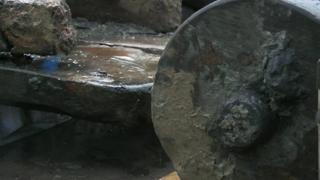 Historic gun carriage recovered from shipwreck
This gun carriage has been recovered from the wreck of a warship which exploded and sank in the Thames estuary in 1665.
The London went down off Southend-on-Sea in Essex, with 300 crew on board.
The gun carriage which has been raised was the first complete one to be recovered from the ship, which is lying about 20 metres below the surface.
Historic England hopes it may provide clues as to why the ship sank.
Archaeologist Alison James says it's a significant find.