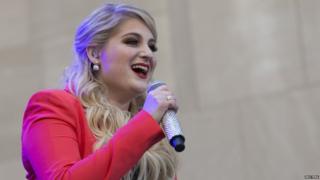 Reuters
Singer- songwriter, Meghan Trainor has cancelled her US tour because of problems with her vocal cords.
"I have hemorrhaged my vocal cord again," she wrote on social media.
"I will need to cancel the remainder of my tour and get surgery to finally fix this once and for all."
The All About That Bass star, who had been due to finish her MTrain tour in September, told her fans she was "devastated, scared and so sorry".
She added: "I am determined to do what it takes to get better and come back around stronger than ever."
She's not the only singer to have suffered voice problems. Sam Smith, Jess Glynne and Adele have all had vocal cord issues.