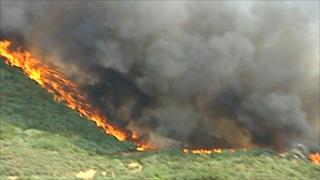 Forest fires rage in northern Portugal
Firefighters are battling raging forest fires in the Minho region of northern Portugal.
The area of is one of the hardest hit by a number of fires that started on Saturday.
A very dry winter and spring increased the risk of forest fires.
Around 18,000 hectares (44,500 acres) are now believed to have been affected.
Aerial footage shows where the worst damage has reportedly occurred.