Giant hogweed might look like an ordinary plant, but it's been causing problems for children this summer.
Toxic sap from the weed, which grows near canals and rivers, can make skin more sensitive to sunlight, often leading to blistering and scarring.
It can grow up to four metres tall, and was brought to the UK during the Victorian times, by people who thought it would look nice in their gardens.
But now Hogweed can be found along footpaths across the country, and some people have been hurt after they've touched it.
A&E children's nurse, Jane Probert, says that children who know they've had contact with the plant should wash with soap and water immediately.
She also suggests that kids should tell an adult if they see hogweed and seek medical help if needed.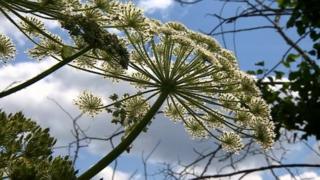 Large weed with white umbrella-shaped flower heads

It has reddish-purple stems with fine spines and spotted leaf stalks

It can grow about 13ft (4m) high and has leaves up to 5ft (1.5m) wide

Poisonous sap from stem hairs can cause severe blistering which can take months to heal

It can produce up to 50,000 seeds per year
Source: Mersey Basin Rivers Trust