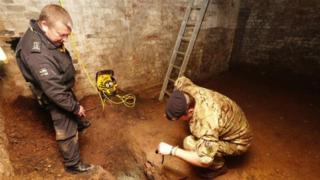 World War Two bomb found in London
More than a hundred people have been asked to leave their homes in London after a unexploded World War Two bomb was discovered buried under an old shop.
Families from Bethnal Green in East London spent the night in a school hall, after being evacuated while experts remove the device and detonate it safely.
The bomb was discovered by builders working on an old workshop.
It is thought to have been dropped by the Nazi German air force, during bombing attacks on London in 1940, known as the Blitz.
Watch our report to find out more.
They will remove it from the site, and take it away to be blown up safely.