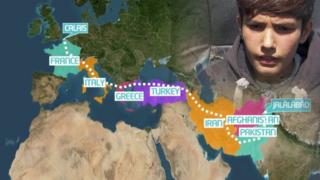 "It took me a year to get to Calais"
An 11-year-old migrant from Afghanistan has been speaking to Newsround about being separated from his father during a year long trip to try and reach the UK.
Safid has travelled 5,000 miles from his home and is currently one of thousands of migrants living in a camp called the Jungle in Calais, France.
It's thought more than 600 child migrants arrived in the UK without their parents last month alone.
And Safid told Newsround reporter Martin Dougan that he will do whatever it takes to try and get to Britain soon.