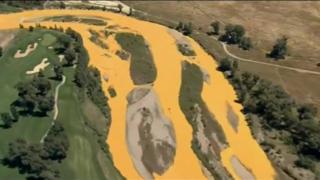 River turns yellow in America
A river has turned yellow in Colorado in America after three million gallons of wastewater spilled out of an abandoned gold mine.
A "state of emergency " has been declared in the area and the water is being diverted into small ponds in an attempt to treat it.
People living nearby have been told to avoid drinking from wells or bathing in the river and the government is supplying clean water to homes and businesses.
The Environmental Protection Agency is investigating the health effects of the leak but says it does not believe any wildlife has been harmed.