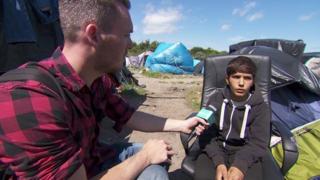 Migrant's 5,000 mile journey to UK
There has been a huge increase in the number of migrants travelling to Europe this year. Many of them are running away from war and poverty.
It's thought more than 600 child migrants arrived in the UK without their parents last month.
Martin went to visit a camp in the French town of Calais where thousands of migrants are staying, in the hope that they can come to the UK, even though they do not have permission to cross the border.
While Martin was in the camp he spoke to Safid, an 11-year-old boy who has travelled over 5,000 miles to try to reach the UK from Afghanistan