Scientists are warning that there's a high chance of a big earthquake hitting Nepal and India in the future.
It's because new research has found that April's earthquake did not release all of the energy and stress underground.
Earthquakes happen when tectonic plates which make up the Earth's surface rub together. The movement forces waves of energy to come to the surface.
As this build up of energy wasn't fully released it's thought some of the stress has been pushed westwards towards India.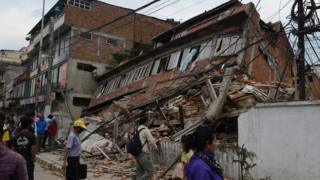 Getty Images
Scientists are now suggesting there should be more monitoring in the area.
The 7.8 magnitude earthquake that struck Nepal in April killed about 9,000 people, and left many thousands more injured and homeless.
Prof Jean-Philippe Avouac, from the University of Cambridge, wrote the report.
"This is a place that needs attention, and if we had an earthquake today, it would be a disaster because of the density of population not just in western Nepal but also in northern India," he said.