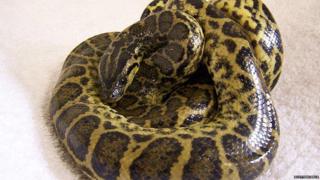 Scottish SPCA
A four foot-long yellow anaconda has been found by a street cleaner in Edinburgh in Scotland.
Gordon Fraser, who found the snake lying next to a fence, first thought it was a toy until it moved.
"The snake looked in really poor condition so I tried to coax him into a cardboard box and we took him back to the depot," he said.
The reptile is now being cared for by the Scottish SPCA, where staff have named him William.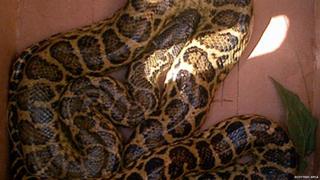 Scottish SPCA
The charity is trying to find whether William escaped or was abandoned.
Scottish SPCA inspector June Chalcroft said: "Yellow anacondas need experienced owners as they are temperamental and will bite.
"It's extremely rare for a four foot anaconda to be found in public."
Yellow anacondas are normally found in Bolivia, Paraguay, Uruguay, western Brazil and north-eastern Argentina.
They tend to live in marshes, banks of rivers and streams.