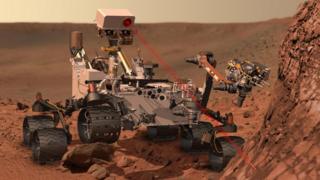 NASA
Nasa has created a new interactive web site to allow people to explore the surface of Mars just like the Curiosity rover is doing.
Nasa has created Mars Trek to mark the third anniversary of the rover landing on Mars.
It allows people to see for themselves some of the features of the red planet using information gathered by Nasa over the past 50 years.
A team from Nasa is also using the interactive map to look at possible landing sites for future missions.