Nothing is dragging One Direction down on their journey to the top of the UK Singles Chart.
They released a surprise single from their upcoming album on Friday, called Drag Me Down.
It's had more than double the combined sales of its closest contender, Little Mix's Black Magic, the Official Charts Company said.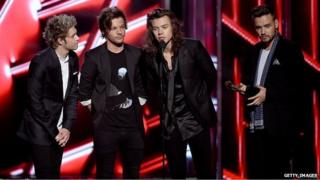 Getty Images
The track has also been racking up an average of 3.11 million daily plays on Spotify.
It's the band's first single as a foursome and was released just two days after former member Zayn Malik announced a new record deal as a solo artist.
Music industry experts say Drag Me Down is currently making around £13,903 a day, which together with streaming plays means the track should bring home around £97,464 in its opening week.