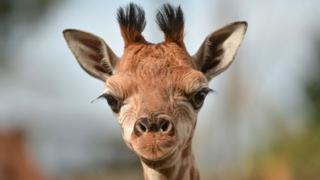 Rare baby giraffe takes first steps
A rare breed of baby giraffe has taken its first steps into the outside world.
Kidepo was born at Chester Zoo and strode into the sunshine with mum Orla and dad Meru.
He's the most recent addition of rare Rothschilds' giraffes at the zoo, following on from the births of Zahra in December 2014 and Sanyu in June.
Their arrivals have given an important boost to the special breeding programme for the species, which is classed as endangered.
Sarah Roffe, team manager of the giraffes, said: "It'll take Kidepo a little bit of time to get used to his long legs but he already seems confident and full of personality and he's doing very well so far. We're really pleased with how he has taken to the rest of the herd and with how the herd has quickly taken to having him around."