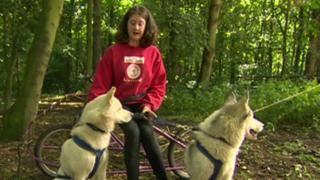 Husky dog racing around the UK
Meet Shona and her huskies Quill, Alaska and Kiowa - they're practising husky dog racing.
Shona is the musher, which means she directs the huskies and gets pulled along in the rig up to 18 miles per hour.
Just two years ago Shona had major heart surgery but working with the dogs helped her recover and get fit and active again.
Now Shona is getting ready to compete in one of the main husky dog racing competitions in Scotland later this year.
Watch Hayley's report to see Shona and the huskies in action...