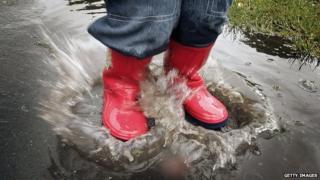 Getty Images
It might be the school summer holidays but the weather's not very sunny in lots of places across the UK.
So when the weather's not great, what do you do to keep yourself busy?
Do you make up new games to play around the house?
Thanks for all your comments. This chat page is now closed. Some of the best comments are below.

You must ask your parent, teacher or guardian for permission before you send us a comment.
We may show your comment on our website or in our TV bulletins. We'll show your first name and which town you're from - but we won't use your details for anything else.
Your Comments
When it's raining I like to draw pictures of animals.
Archie, 7, Staffordshire
I like to snuggle up on the couch with a film I haven't watched.
Alex, 12, Doncaster
Go to the park with my squad.
Jeff, 9, England
I like to build dens from blankets and pegs inside with my brother and sister.
Ophelia, 12, Hampshire
When it's raining, which it often does in London, I always like to read a book, or play games on my phone.
Arshpreet, 13, London
I just stay at home and watch TV.
Ansaa, 13, London
When the weather is incredibly bad I watch BBC iPlayer or I read books!
Kimya, 10, London
I like to watch films and watch CBBC, especially Newsround!
Eden, 13, London