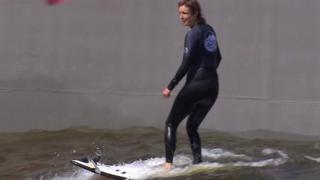 World's longest man-made wave to open
Britain's first man-made surfing lake has been unveiled in North Wales.
New technology means three-metre-high waves can be created in an instant, and they're the longest man-made surf waves in the world.
The giant man-made lake is three times the size of Wembley stadium and has been built in the Welsh mountains
Local people have been allowed to test out the waves before it opens officially on Saturday.