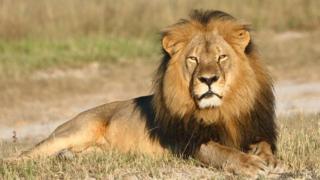 What happened to Cecil the lion?
Hundreds of people in the USA have held protests in the home town of man who killed a lion in Zimbabwe, Africa.
Walter Palmer from the state of Minnesota is believed to have paid about £32,000 to hunt lions in the wild.
Cecil the lion's death has prompted a huge reaction from many on social media, with tens of thousands of people signing a petition asking for Cecil's killer to be punished for what he did.
Mr Palmer said he thought the hunt was legal and didn't know the lion was protected.
Ayshah's been following the story.