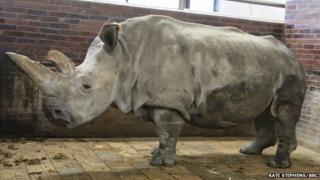 KATE STEPHENS/BBC
One of the last five Northern White Rhino left in the world has died.
Nabire, a 31-year-old female, died at a zoo in the Czech Republic on Monday.
She had a cyst inside her body and vets had no way to treat it.
AFP/Getty Images
Her death leaves just three females and one male alive; one of them at the San Diego Zoo and three at the Ol Pejeta Conservancy reserve in Kenya.
The sub-species has been on the brink of extinction for years because of hunting and habitat loss.
Hunters sell their tusks to countries like China, where some people believe ivory has healing powers.