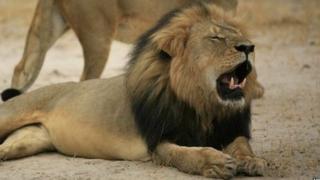 Cecil the lion hunted by US dentist
A US dentist who killed a lion in Zimbabwe, Africa, says he regrets shooting the animal.
Walter Palmer from the state of Minnesota is believed to have paid about £32,000 to hunt lions in the wild.
Palmer eventually shot a well-known lion in Africa called Cecil, who was a massive tourist attraction.
Protesters have now gathered outside the dentist's home and authorities are looking into whether he has broken any American laws.
Zimbabwe is battling to stop illegal hunting and poaching which threatens to make some of its wildlife extinct.
Watch Jenny's report.