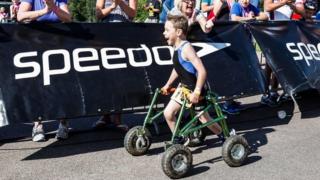 Eight-year-old completes triathlon
An eight-year-old boy called Bailey has completed his first ever triathlon in Yorkshire.
He has cerebral palsy, which is a condition that affects movement and co-ordination but it didn't stop him from taking part and completing the triathlon.
He competed in the children's event for 8-10 year olds, swimming 100 metres, riding a bike for 4 kilometres and running for 1.3 kilometres.
Despite stumbling twice on his way to the finish line, Bailey picked himself up and ran the final twenty metres of the course without his walking frame.