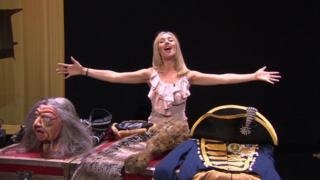 Behind the Scenes of Horrible Histories show
Horrible Histories is celebrating the 10th anniversary of its stage show.
'The Barmy Britain Part Three' is packed full of famous stories from history told in an entertaining way.
Horrible Histories author Terry Deary says he thinks the show has been so successful because people are interested in how Kings and Queens used to live years ago.
Hayley went behind the scenes to check out all the costumes and even had a go at making her own Horrible Histories rap.