Chris Froome has won the Tour de France after safely reaching the finish line in Paris at the end of the three-week race.
It's the second time he's won it in three years, becoming the first Briton ever to win the tough cycling competition twice.
The final stage ended in Paris, the French capital, with heavy rain that made the roads dangerous.
Froome rode over the finish line arm-in-arm with his Team Sky team-mates.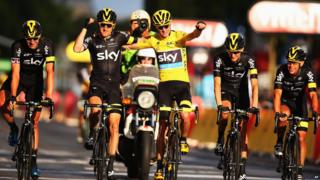 AP
The Tour de France is a very tough, steep, international cycling race that's known as one of the hardest tests of human endurance.
There are 21 stages to the race that started in the Netherlands on 4 July, crossed into Belgium then finished in France.
It covers a total distance of 3,360km up and down hills and mountains and there are only two days to rest.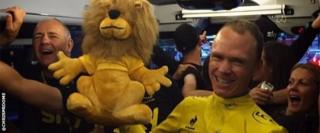 @chrisfroome
During the 21-stage race, Froome faced abuse from spectators and accusations of using drugs to boost his performance, which ended on Sunday.
One French physiologist described his performance as "abnormal".
But the 30-year-old Team Sky rider insisted: "The yellow jersey is very special. I will always respect it and never dishonour it."