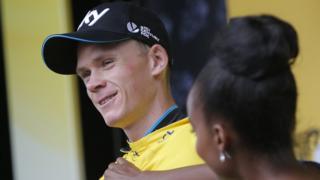 AP
Chris Froome is the current leader of the Tour de France and it looks like he's set to win it for the second time in three years.
The tour is a very tough, steep, international cycling race that's known as one of the hardest tests of human endurance.
There are 21 stages to the race that started in the Netherlands on 4 July, crossed into Belgium then carried on into France. It ends today.
It covers a total distance of 3,360km up and down hills and mountains and there are only two days to rest.
Performance under the microscope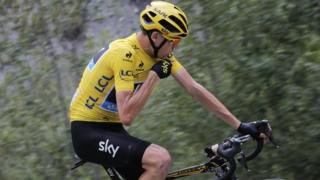 AP
The performance of 30-year-old Chris Froome so far in the race has been impressive.
On some of the stages that are particularly steep, he has shown incredible strength, power and stamina.
But that's led some people to question his performances claiming he couldn't do so well without help.
Froome believes he will never be able to completely silence the questions over whether he is drugs-free.
"I'd imagine it's going to be never-ending," he said this week.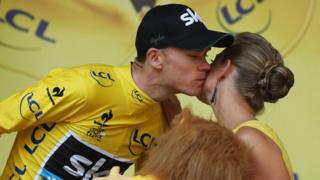 ALLSPORT/GETTY
Prove you are innocent
Chris Froome's impressive performance on one steep stage of the Tour de France (Stage 10) has been described as "abnormal" by a French physiologist, Pierre Sallet.
He claims he has his own, accurate evidence, that Froome's performance may not be all it seems.
Team Sky boss, Sir Dave Brailsford says the physiologist's data is "wildly wrong."
Sky's Head of Performance, Tim Kerrison, has provided a set of numbers that he says, prove the claims are incorrect.
Lance Armstrong was banned for life for taking drugs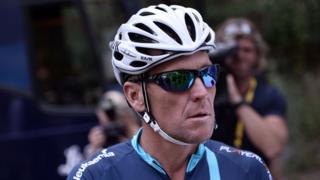 AFP/GETTY
For years, former American cycling champion Lance Armstrong denied taking drugs to improve his performance.
He later admitted he had cheated.
In a TV interview, he said that if it was still 1995, he would "probably do it again."
He was stripped of his record seven Tour de France titles and banned from sport for life by the United States Anti-Doping Agency (USADA) in August 2012.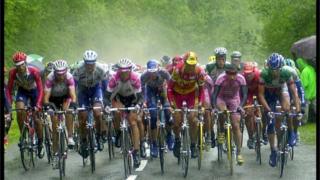 AP
Cycling's reputation still damaged
In March 2015, a report into the sport found cycling continues to struggle with drug issues.
An investigation was set up to look at how cycling was run in the 1990s and 2000s.
It found some riders take small but regular amounts of a banned substance to trick drug tests.
A new organisation was set up in 2013 to look after the sport. It's led by UCI president Brian Cookson, who promised a fresh start.
Competitive advantage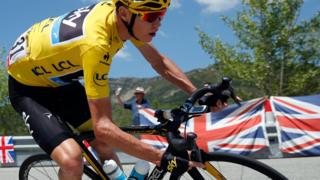 ALLSPORT/GETTY
Now in this year's Tour de France Chris Froome is under pressure to prove he's never taken drugs to enhance his performance.
He believes he could only prove his innocence by releasing all of the data linked to his training and the unique way his body works.
But he says it's not possible to give out details of their specially developed training programmes, as it would help his rival teams.
Froome said: "It's crazy for us just to give it away. If the World Anti-Doping Agency (WADA) or the cycling governing body (UCI) wanted to collect that information, the team would be very happy to give it to them on the basis that all other teams did the same."
Froome has missed drugs tests before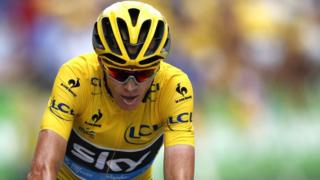 Reuters
Chris Froome has admitted he missed a drugs test on holiday in Italy earlier this year. He said staff at the hotel where he was staying, refused to let the testers in.
''It was hugely frustrating'' he said.
He accepts responsibility saying, '' I've certainly learnt my lesson there. It's always the athlete's responsibility to make sure he or she is available for testing."
He also missed a test when out training in 2010.
Froome was tested 30 times in three weeks when he won the Tour De France in 2013.
Froome is not the only one being targeted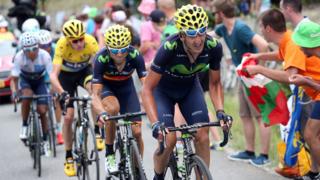 ALLSPORT/GETTY
The head of Athletes for Transparency, a not for profit anti-doping agency, says enhancing your performance can come in many different forms and isn't just about drugs.
They say it could be ''mechanical doping'' which is using a motor in your bike.
But they say ''people need to know."
All the riders have to undergo strict testing when they're competing.
French physiologist, Pierre Sallet denies he is just focusing on Froome.
He says anyone who leads the race and wears the leaders yellow jersey is investigated.
"If the yellow jersey was a French athlete, we would put in the same energy. We want to understand."