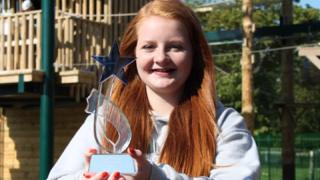 Press release
A girl from Blackpool has been congratulated for not missing a single day of her 12 years at school.
Emily will leave Blackpool's Montgomery High School with an unblemished record, racking up a total of 2,280 school days.
The 16-year-old has recently completed her GCSEs.
"I'm not special," she said. "I just wake up and go out to school every day. I've done it all my life."
The student has a keen passion for graphics and music and hopes to be able to study A-Levels in the subjects at a local sixth-form college.
Mr Burns, from Montgomery High School, said Emily was "an absolute inspiration".