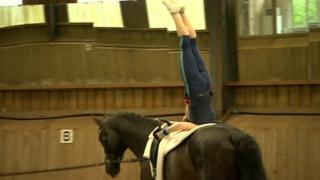 The girl who does handstands on horses
The English vaulting champion who is training for the European Games next month said combining her two loves of horses and gymnastics is "second nature".
Lucy Phillips, 25, from Solihull began vaulting when she was seven years old.
Practise on top of the horse has to be limited so Miss Phillips perfects the moves at ground level first at her training centre in Shrewley, Warwickshire.
The sport can trace its history back to the Olympic games in Ancient Greece.
Please do not try anything like this at home - Lucy Phillips is a trained professional with lots of safety precautions in place.