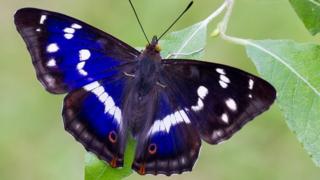 Meet the butterfly that eats poo
The Purple Emperor is one of Britain's largest and most rare butterflies, but behind its beauty is a fighting nature and some pretty gruesome dining habits.
The Purple Emperor is rare among butterflies, avoiding flowers and preferring rotting fish, poo, mud puddles - and even human sweat.
Butterfly experts can be found wandering the woods of southern England in July, when the Purple Emperor is in season, with everything from dirty nappies to decaying shrimps in hand to catch a glimpse of the interesting insect.
Butterfly conservationist and Purple Emperor fan Neil Hulme explains why he thinks the species is so spectacular.