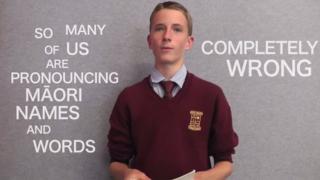 Boy's quest to respect Maori language
A New Zealand schoolboy's video complaining about people saying words in the Maori language wrong has proved an online hit.
The clip has had more than 155,000 views since it was posted on YouTube on Monday.
Finnian Galbraith says the Maori language is an important part of all New Zealanders' identity, and that if people do not use it properly it will be lost.
He says in his video this is "a big issue and I believe it is very important that we take action".