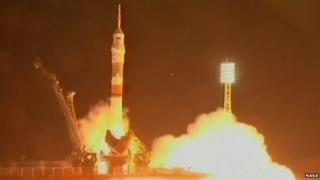 Rocket blasts off for space station
A Russian spacecraft carrying an international team of astronauts is on its way to the International Space Station after blasting off safely from the Baikonur cosmodrome in Kazakhstan.
The launch of the Soyuz craft had been delayed for two months, following the failure of an unmanned Russian cargo rocket in April.
The launch was broadcast live on Nasa Television.