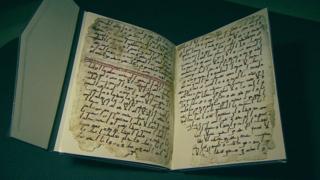 'Oldest' pages of Koran found
What could be the world's oldest pages of the Koran, the holy book for Muslims all over the world, have been found by the University of Birmingham.
The pages of the holy book had remained hidden in the university library for almost 100 years.
Radiocarbon dating, a technique used to find the age of an object, found the pieces of the holy book to be at least 1,370 years old.
The university says it will now put the pieces of the Koran on public display.
Watch Leah's report to find out more.