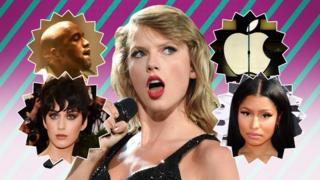 She might be one of the most famous and successful artists in the world right now but Taylor Swift has had some bad blood with people.
But luckily she knows how to shake it off, shake it off.
Her lastest fall out is with Nicki Minaj, who was upset that she was not nominated for more MTV Video Music Awards in 2015 like Taylor.
Newsround takes a look back at her some of her famous feuds with celebrities including Katy Perry and Kanye West.
Taylor v Nicki Minaj
After the nominations for MTV's Video of the Year were released, Nicki Minaj took to twitter saying her video Anaconda should have been nominated in the category too.
She wrote: "If I was a different "kind" of artist, Anaconda would be nominated for best choreo and vid of the year as well."
Taylor took this as a swipe against her and wrote back to Nicki saying "I've done nothing but love & support you. It's unlike you to pit women against each other. Maybe one of the men took your slot."
Nicki followed with "If your video celebrates women with very slim bodies, you will be nominated for vid of the year."
Taylor then made this offer to her: "If I win, please come up with me!! You're invited to any stage I'm ever on."
Taylor v Kanye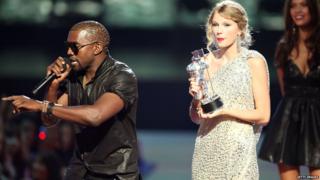 Getty Images
One of the most famous Swift spats happened at the VMA's in 2009.
Taylor had just been announced as the winner of Best Female Video and was onstage accepting her award when Kanye West invaded the stage, grabbed the microphone and declared that Beyonce should have won instead.
All Taylor could do was stand and watch as Kanye stole her moment of glory.
Taylor v Katy Perry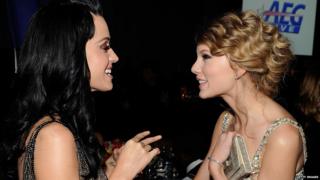 Getty Images
In an interview with Rolling Stone magazine in 2014, Taylor opened up about her song Bad Blood, which is rumoured to be about Katy Perry.
Although Taylor has declined to name her as the inspiration, it's rumoured that the bad blood between them started when some of Taylor's dancers were invited to join Katy's world tour.
The magazine quotes her as saying: "It had to do with business. She basically tried to sabotage an entire arena tour.
She tried to hire a bunch of people out from under me."
Taylor v Apple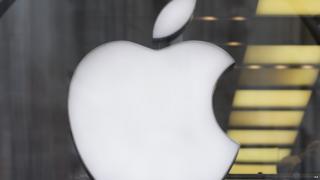 PA
When Apple announced a free three month trial on its new streaming service, Taylor wasn't happy and said she wasn't going to allow them to stream her album 1989.
During the trial period, music makers would not be paid and Taylor said this was "unfair", arguing in an open letter posted online, that Apple had the money to cover the cost.
"Three months is a long time to go unpaid, and it is unfair to ask anyone to work for nothing," she said.
In response, Apple said it will pay artists for music streamed during free trial periods.