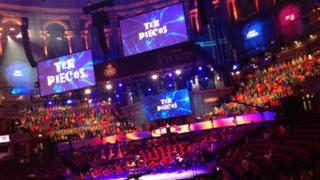 Kids steal show at Ten Pieces Prom
Dick and Dom, Barney from Blue Peter, and 10,000 primary schools from all over the UK have been taking part in a BBC project that's all about bringing classical music to life.
For the past year, kids have been responding to a film called Ten Pieces, which includes ten different pieces of classical music.
The project was aimed at getting more children interested in the music.
Kids from four primary schools were then specially chosen to take part in two concerts to showcase their response to the original songs at the world famous Royal Albert Hall in London.
Jenny went behind the scenes at the concert.