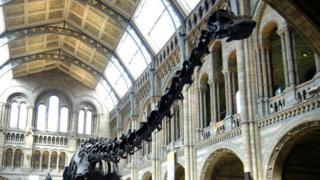 Dippy the diplodocus set for UK tour
One of the UK's most famous dinosaurs, Dippy the diplodocus, could be coming to a town near you.
At the beginning of the year, a campaign was launched to save Dippy, the 109-year-old diplodocus skeleton cast that has been in the Natural History Museum's entrance hall in London since 1979.
Thousands of people signed a petition to keep the dinosaur, rather than a new blue whale model, but now the museum has announced plans to send Dippy on tour around the country from early 2018.
A full list of where it will go hasn't been decided yet but the 21 metre long skeleton will need to be taken apart and re-built at each venue.