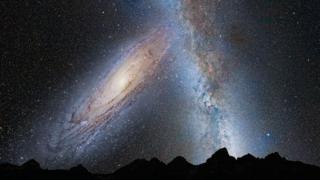 NASA
Professor Stephen Hawking has launched a new project to find out whether there is life elsewhere in the universe.
The search for intelligent life in space is said to be the biggest yet.
The 10-year effort will listen for broadcast signals from a million of the stars closest to Earth.
The £64m project was launched by the Breakthrough Initiatives group at the Royal Society in London.
Speaking at the launch, Professor Hawking said: "Somewhere in the cosmos, perhaps, intelligent life may be watching these lights of ours, aware of what they mean.
"It's time to commit to finding the answer - to search for life beyond Earth.
"We are alive. We are intelligent. We must know."