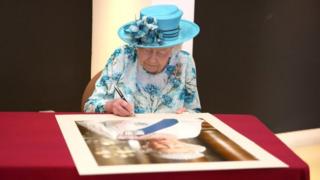 Palace 'disappointed' over footage release
A Newspaper has shown a home video of the Queen when she was a young girl, raising her arm like a Nazi salute.
The video which was filmed around 1933, shows the Queen playing with a dog in the private gardens at Balmoral in Scotland.
The Queen Mother raises her arm like a Nazi salute and the Queen copies her.
Buckingham Palace have said the release of the video is ''disappointing''. They said the video was filmed more than 80 years ago and was from the Queen's private family collection.
The Nazi salute was used by Adolf Hitler, who was Germany's leader at the time.
His actions during World War Two caused the deaths of millions of people.
The Sun newspaper, who released the video, have refused to say how they got the footage but said it was an "important and interesting story".