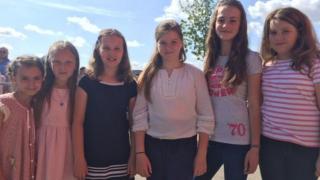 Thousands audition for Harry Potter film
Thousands of children have queued to audition for JK Rowling's new Harry Potter spin-off film in London.
Open auditions have taken place at the Excel Centre for the character of Modesty in Fantastic Beasts and Where to Find Them.
Film studio Warner Bros is looking for a girl between the ages of eight and 12 for the role.
Leah has been reporting for Newsround from outside the auditions venue, where young hopefuls have been waiting in line for their turn to audition.
Before the original Harry Potter films were made, movie star Rupert Grint went along to an open audition for his role as Ron Weasley.