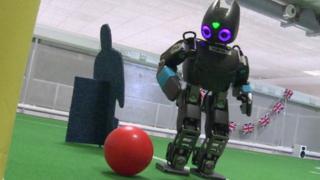 Robot footballers hoping for cup win
Meet the UK's robo-footie team who've been training hard for this year's RoboCup World Championships.
The robots were built by a team at the University of Hertfordshire, and put in a cracking performance last year by grabbing second place in Brazil.
Each robot is programmed with around 50,000 different lines of code to help them to know what to do.
The RoboCup is an annual football competition, which first started in 1997.
Around 500 teams from more than 45 countries will take part in this year's contest, which kicks off in China on 19 July.