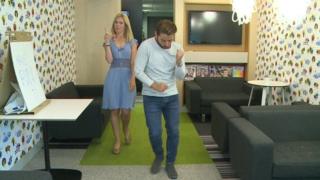 CBBC
Looking for dance inspiration for your prom?
Well look no further because CBBC's Hayley, Ricky, Katie, Lindsay and Hacker are here to teach you their 'best' moves.
Warning! Copying these dance moves might not be a good idea (they're seriously bad)...
1. The Ricky Shuffle
Ricky says his moves have a flamenco flavour - but really they're a bit more cheese.
2. The Besandled Leg
Hacker demonstrates his flexibility with this funky fling. If you like high energy, this one's for you.
3. The Disco Shake Down
You don't need any rhythm or co-ordination to pull off this dance. Hayley says it's all about having fun.
4. The Running Woman
Do you ever find yourself running and getting nowhere? Well you might be doing Katie's signature move. We can't figure out why nobody wanted to dance with her?
5. The Lindsay Hop
If you try this move you may end up down on the dance floor, literally. At least Ricky thinks it's worth an applause.