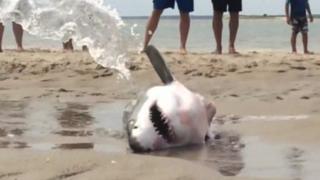 Great white shark rescued from beach
A great white shark has been rescued after it was stranded on a beach at Chatham, Massachusetts in the US.
Witnesses say the seven-foot male shark got stuck as the tide went out.
Members of the public kept the shark alive and wet by splashing it with buckets of water until officials arrived.
The harbour master then attached a line to his rear caudal fin and pulled it back into open waters to release it safely back into the sea.
Footage courtesy Mike Bartel