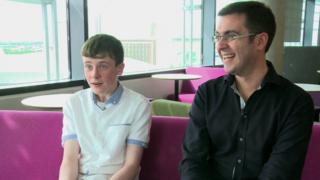 Meet the star of new animation movie
The star of a new Oscar nominated film called Song of the Sea has been speaking to Newsround about what it's like to play an animated character.
The movie, which comes out in the UK this week, is based on an Irish folk tale.
It follows the story of a boy called Ben and his little sister who meet selkies, giants and faeries on their adventure.
It was made using traditional drawing techniques, and was nominated for the biggest film awards in the world, the Oscars, earlier this year.
Jenny went to meet the director of the film, and the 14 year-old actor who plays the lead role to find out more.