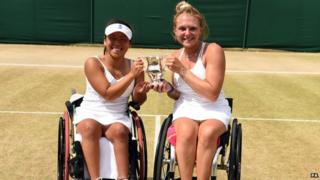 PA
British Tennis star Jordanne Whiley, and her Japanese partner Yui Kamiji, have become Wimbledon doubles champions for a second year in a row.
The pair beat Dutch duo Jiske Griffioen and Aniek Van Koot 6-2 5-7 6-3.
It means that both Whiley and Kamiji have now won six Grand Slams out of seven.
However, the British men weren't so successful, as Gordan Reid and his French partner lost the men's wheelchair doubles in the final.
British Number One
Jordanne is the top ranked player in Britain, and is the second best women's wheelchair doubles player in the world.
At the London 2012 Paralympics Jordanne became the first woman to win a medal in her sport.
Wheelchair tennis is played using a custom chair, with an ultra light frame, and wheels that can move in any direction.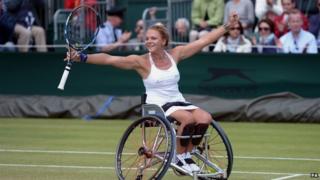 PA
Wimbledon announced on Sunday that there will now be singles events at Wimbledon in wheelchair tennis.
Wheelchair doubles matches have been played at Wimbledon for the last ten years, but this is the first time singles matches will take place there.