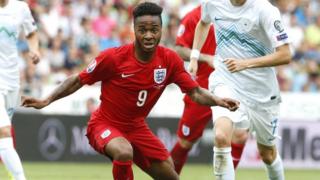 EPA
Liverpool and England footballer Raheem Sterling looks set to move to Manchester City for £49 million. But do you think he's worth it?
The deal would make Sterling, who's 20, the most expensive English player of all time and the 13th most expensive in the history of world football.
He scored seven goals in 35 Premier League matches last season for the Reds and has one goal in 16 games for England.
So, what do you think about the deal?
THIS CHAT IS NOW CLOSED. THANK YOU FOR YOUR COMMENTS.
YOUR COMMENTS
I think Man City have paid too much and he is not one of the very best players. Liverpool shouldn't be sad that they lost a player as they have other fab players.
Nazia, Lancashire
I would never pay £49 million for him. He's selfish and greedy.
Gurpreet
We think that Raheem Sterling is not worth £49 million because he is not the best player in the Premier League. Aguero is better than him and he was bought for £37 million. Manchester City have wasted their money. We are Liverpool fans and we're not happy that he has been sold. All our best players have gone.
Year 3 (in particular Sami and Abdullah), Rochdale