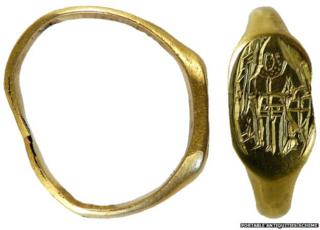 Portable Antiquities Scheme
A 600-year-old gold ring engraved with St George and the Dragon reveals new information on the saint's medieval followers in Norwich, an expert has told the BBC.
The ring, found by someone with a metal detector in South Creake, Norfolk, dates from between 1350 and 1430.
Dr Jonathan Good, author of The Cult of St George, said the ring demonstrates St George's popularity and may be linked to a club devoted to the saint.
The ring has been classed as 'treasure' and will be kept at Norwich Castle Museum.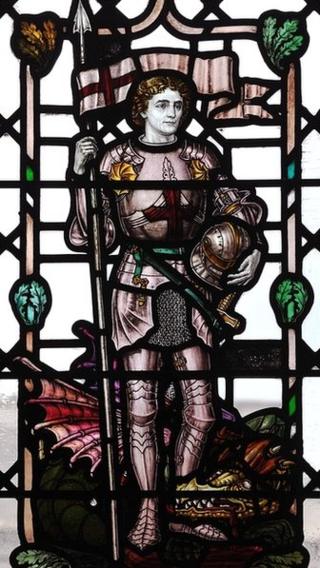 Who was Saint George?
St. George is the patron saint of England. His emblem, a red cross on a white background, is the flag of England, and part of the British flag.
One of the best-known stories about Saint George is his fight with a dragon. He's famous throughout the world as the dragon-slaying patron saint of England.
St George's Day is celebrated on 23 April and represented by a rose.
English people remember St George by taking part in music festivals and medieval dragon-fighting tournaments.