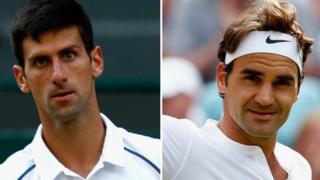 Getty Images
Roger Federer will look to become the first man to win eight Wimbledon titles when he plays defending champion Novak Djokovic today.
Federer, 33, currently shares the record of seven wins with Pete Sampras and victory would make him the oldest Wimbledon winner.
Djokovic, 28, beat Federer in the 2014 final for his second title at Wimbledon.
But who will you be supporting and why?
Your Comments
I am supporting Roger Federer, because he's my favourite player and he deserves to win!
Asad, Manchester, England
I think Federer is going to win because he beat Murray and is the all time no. 1, not to mention he very nearly beat Novak last year.
Elliot, Somerset, England
Certainly Federer, his serve is amazing plus he deserves to win as Djokovic won last time.
Oscar, London, England
I am on Roger Federer's side because he serves really well and he deserves to win.
Katie, Somerset, England
I really want Roger Federer to win because people say I look really like him even though I'm a girl ! He is also a really nice and smiley person! Although I have to keep quiet about liking him sometimes because he beat Andy Murray in the semi final!
Catriona, Scotland
I'm excited to watch the final. There should be loads of aces and well played shots. I'm supporting Roger Federer.
Rhys, Swansea, Wales
I'm supporting Novak Djokovic because he is my favourite player and the way he plays tennis is so soothing.
Muhammad, Nottingham, England
I am supporting Novak Djockavic because he is an old friend with Andy Murray!
Gabe
I will definitely be supporting Roger Federer! His style of tennis is so elegant and smooth and he's one of my favourite tennis players. I would have loved for the final to be Rafa vs Roger like it was in the epic 2008 Wimbledon final, as they are my two favourites. I'm really looking forward to watching the final with a cuppa and chocolate and cheering on Roger!
Lavender, England
I'm excited to watch both playing and fighting for the title.
Jitender, New Delhi, India
(This chat page is now closed - Thanks for your comments!)