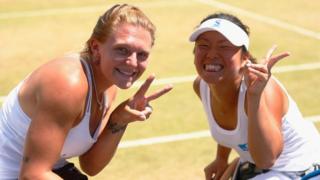 Meet the British wheelchair tennis number one
British number one Jordanne Whiley is through to the finals of the wheelchair ladies doubles at Wimbledon.
Wheelchair tennis is played using a custom chair, with an ultra light frame, and wheels that can move in any direction.
Jordanne has won Wimbledon, and all the opens in the calendar grad slam last year.
It's the Wimbledon finals this weekend and Britain's got a lot to look forward to.
Hayley went to meet Jordanne to challenge her to a match...