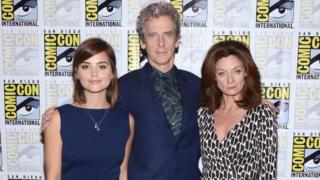 Doctor Who series 9 trailer revealed
Doctor Who fans, its time to celebrate, because the new trailer for series 9 is here!
The trailer was revealed at San Diego Comic Con in America, and featured new monsters and characters, as well as the return of some old favourites.
Thousands of American fans gathered to meet Peter Capaldi and watch the new trailer.
Clara and Missy look set to make a return appearance, as well as brand new mystery character shown at the end of the trailer, played by actress Maisie Williams.
The new series isn't out until 19th September in the UK later this year.