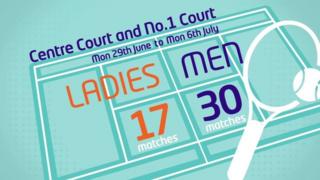 Wozniacki: "I would love to play on a big court"
Tennis star Caroline Wozniacki says women players don't get to compete on the main tennis courts at Wimbledon - Centre Court and No. 1 Court - as much as the men do.
The Danish player says female competitors work hard too, so deserve to play on the big courts as well.
For a long time the money that male and female players won wasn't the same, but in 2007 Wimbledon made it equal.
So should the number of matches on Wimbledon's big courts be equal too?
Ayshah's been investigating.