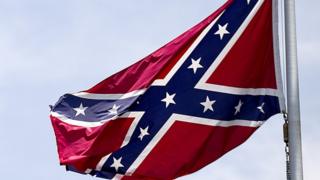 AP
It's a very significant move - The US State of South Carolina has voted to take down the Confederate battle flag after big protests calling for it to be removed.
Some people say it could be viewed as a racist symbol.
It's not the country's national flag, but it was used by some states during America's civil war 150 years ago.
A group of states in the south of the USA broke away from the rest of the country because they wanted slavery to continue.
They used the Confederate battle flag as their symbol in the war that followed.
They lost that war and slavery was ended.
It's still flown in front of some official buildings in the country.
But other people, particularly some of those who live in the south of the USA, say that the flag isn't racist, but is part of their history.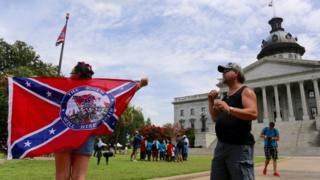 South Carolina to remove the Confederate Battle flag
The reason this decision is important is that South Carolina was the first state to leave the union in 1860.
Now, after big demonstrations and hours of talking, the authorities there have voted to take it down it from the Capitol grounds.
The move now needs to be signed off by the person in charge there, Nikki Haley.
She supports the move.
Once the paperwork is signed, the flag could be gone within 24 hours.
``It is a new day in South Carolina, a day we can all be proud of, a day that truly brings us all together as we continue to heal, as one people and one state,'' Nikki Haley said.
This move is significant and is a U-turn in the state that put up the confederate battle flag in it's official buildings more than 50 years ago.
One person living there said: ''I never thought in my lifetime I would see this.''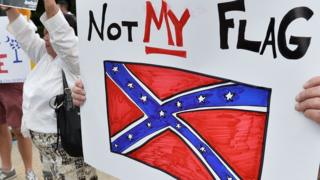 AFP/Getty Images
Call for change
The issue has been raised again in the past few weeks after the tragic shooting of nine black people at a church in Charleston, South Carolina, by a young white man.
Police say the man who did it had strong racist beliefs and wanted to start a war between whites and blacks.