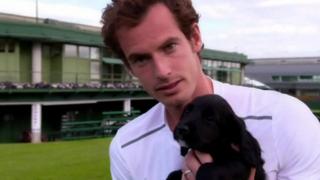 Andy Murray meets sniffer dog pups
Andy Murray took a brief break from tennis to try his hand at puppy training this week.
These five cute cocker spaniels are being trained to become sniffer dogs for the Metropolitan Police Service.
Sniffer dogs have a very important role, each one is highly trained to smell out stuff that could cause harm or be against the law like drugs, cash, or even illegal meat.
They're also used at Wimbledon to help keep the crowds safe.
These pups are being trained to help stop criminals from illegally transporting endangered plants and animals in and out of airports.
Murray said: "Sniffer dogs do an incredible job whether it's keeping us safe and secure here at Wimbledon, or fighting wildlife crime in Nepal."
Footage courtesy of Wimbledon.com.