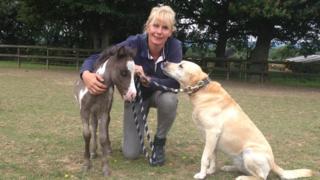 Meet Microdave, the tiny horse
Measuring in around 45cm tall, Microdave is the newest contender for the title of Britain's smallest horse.
Born in Kent, in the south-east of England, the American miniature stallion is half the size of a regular foal of the same breed.
Microdave got his unusual name from his dad, who is called Littledave.
His owner Jen Baldwin-Murphy, says that Microdave is very cheeky, and has become really popular with visitors.